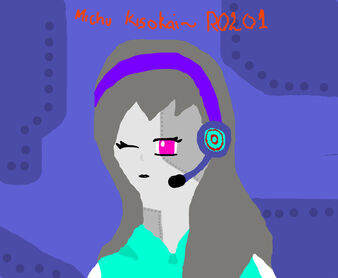 Gender:Female
Age: 15
Weight: Unknown
Birthday: 22nd October 1996(2011)
Release Date:1st October 2011
Voice Range:
Genre:Pop,Rock and R&B
Character Item: Camellia
Voice Source:Rin Kagamine
Likes:Camellia's, cats, rabbits and robots
Dislikes: Miku Hatsune, dogs and Kaiko Shino
Related Characters: SF-A2 Miki and Rin Kagamine
Homepage: No
Creator: KisokaiMichu on Devineart
Signature Song: Meltdown
Number: R0201
Personality:Quiet, Shy, and caring
Voice:

Story
Michu's real name is, Mikunasi 'Michu' Kisokai she lived with her older sister Kikosia 'Shikuka' Kisokai and Younger brother Naruzero 'Zero' Kisokai. Michu has always loved iNSaNItY by Sf-A2 Miki ft. Kaito and has taken Miki as a rolemodel aswell as Rin Kagamine after listening to her song Meltdown and Butterfly on your right shoulder(ft. Len Kagamine).
Michu and Zero were split up from Shikuka after a storm and didn't know where she went then they found Rin, Len and Miki.
Appearance:
Long grey hair, has pink eyes her skin is grey/white and she has patches of dark grey on her face, neck and arms. She wears an Aqua shirt, red shorts and a purple boot and green boot. Michu normally wears a red Camellia or white Camellia in her hair on the left hand side just a little bit infront of her purple headphone strap.
Name meaning:
Michu can be spelled Mishu
Kisokai can be spelled Kiosk
Kisokai(kiosk) means 'bitch'
Michu(Mishu) means 'I miss you'
Mikunasi means 'Goddess of Beauty, Intelligence, Love and Fun'
Family:
Ad blocker interference detected!
Wikia is a free-to-use site that makes money from advertising. We have a modified experience for viewers using ad blockers

Wikia is not accessible if you've made further modifications. Remove the custom ad blocker rule(s) and the page will load as expected.